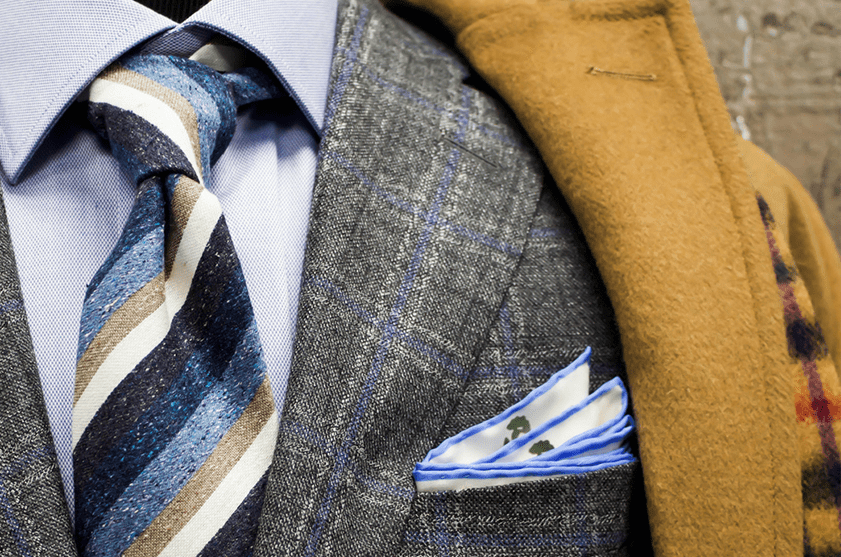 How to incorporate your business clothes into everyday wear
In today's world, "workwear" has taken on an entirely new meaning. Five years ago, odds are your daily work ensemble consisted of blazers, button-downs, and loafers. Now, depending on your industry, remote work has really emphasized the casual in "business casual." Men's style can be challenging to navigate at times through changing seasons, especially when working with a business casual guideline.
Read on for our best tips for elevating your daily style using your business wardrobe!
1.Layer a blazer or sportcoat over a high-quality t-shirt
Blazers aren't just for the office anymore. On your next dinner date, try starting with a base outfit of a classic tee and slim fit pants, like chinos. First, choose a tee crafted from a luxurious fabric, like cashmere or super-soft Pima cotton. Stick to a standard crew neckline to keep things elevated, and make sure the fit of the shirt is structured and well-formed. Cuffed chinos and a comfortable pair of leather sneakers with your favorite sport coat or blazer create a classy workwear-meets-night-out look.
2.Follow a monochromatic color scheme
When putting together a look that exudes confidence and class, sticking to one or two colors is a great trick. Style a tailored button-down shirt with pants in the same color family (different shades of the same color are okay too), and add shoes or boots that coordinate with the look. Dressing in all one color is a simple yet effective way to make your outfit look more elevated while showing off your personal style! At Manno, our skilled men's style experts can help you select pieces in a color family that works for you, while also finding the perfect fit.
3.Use a pattern as a statement piece
Do you have that one dress shirt with the unique pattern you only break out once or twice a year? Or a pair of tailored slacks with a subtle print you never get to wear? Accessorize your casual outfit by using one of your favorite prints or patterns as a focus piece. Keep your base layers neutral, like pairing a lightweight sweater or long sleeve with printed pants. Or pair your favorite high-end denim with a bold print on top. Getting dressed every day should be fun–don't be afraid to make a statement!
Looking for more in-depth men's style advice for your personal wardrobe? Curious for more ways to combine your workwear and everyday outfits? Our skilled clothing consultants and tailors can help you identify pieces and silhouettes that flatter your current closet and take your outfits to the next level! Book a private appointment with us today.