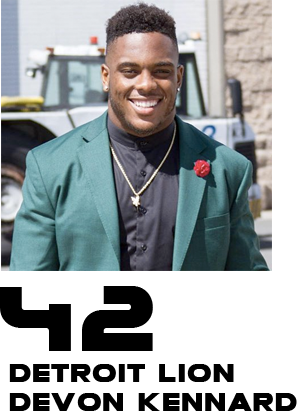 MANNO CLOTHING NAMED OFFICIAL CLOTHIER FOR DEVON KENNARD
Clothing store becomes exclusive outfitter for Lions' linebacker
Manno Clothing proudly announces that it will be personally assisting Devon Kennard, Detroit Lions linebacker, with his clothing needs for the 2018-19 NFL season. Kennard connected with Manno Clothing after researching clothing stores in the Metro-Detroit area. After reading many positive testimonials, Kennard made a visit to the Manno storefront where he was able to meet Pat, Anthony, and the entire staff. He witnessed first-hand the expert tailoring in action and the commitment to quality goods the Dearborn-based store has showcased for over 47 years.
Wanting to build strong community relationships, Kennard appreciated the personal approach from the family owned and operated haberdashery. During his visit, Kennard learned Manno Clothing has helped a variety of notable coaches and athletes during their tenure. Some clients proudly showcased on the walls of the store include previous Lions coaches, Jim Caldwell and Jim Schwartz, along with other noteworthy names like Tom Izzo, Mark Dantonio, John Beilein, Urban Meyer, Matt Costello, and Paul Zipser.Additionally, the Manno's have cultivated their relationship with the Lions organization by fitting the coaching and support staff with sideline trousers each season. Pat and Anthony make a yearly visit to the training facility for a private fitting prior to trainingcamp.
Kennard will be using Manno Clothing for their expertise in clothing and tailoring throughout the NFL season. Being expected to dress appropriately for travel and other team engagements, Kennard wanted to have a reliable, one-stop-shop for menswear.Most importantly, however, he wanted to feel comfortable in his clothing and look great no matter the occasion.
Later this year, Manno Clothing and Kennard will be partnering to host a charitable event at the storefront with the proceeds benefiting his charity of choice. The event will feature Devon, his personal guests, and faithful patrons of the storefront.
You can see all of Kennard's outfits highlighted on his personal Instagram (@DevonKennard), Manno Clothing's social channels (@mannoclothing), and, if your timing is right, to and from Ford Field.
You can bet DK will be looking great both on and off the gridiron.