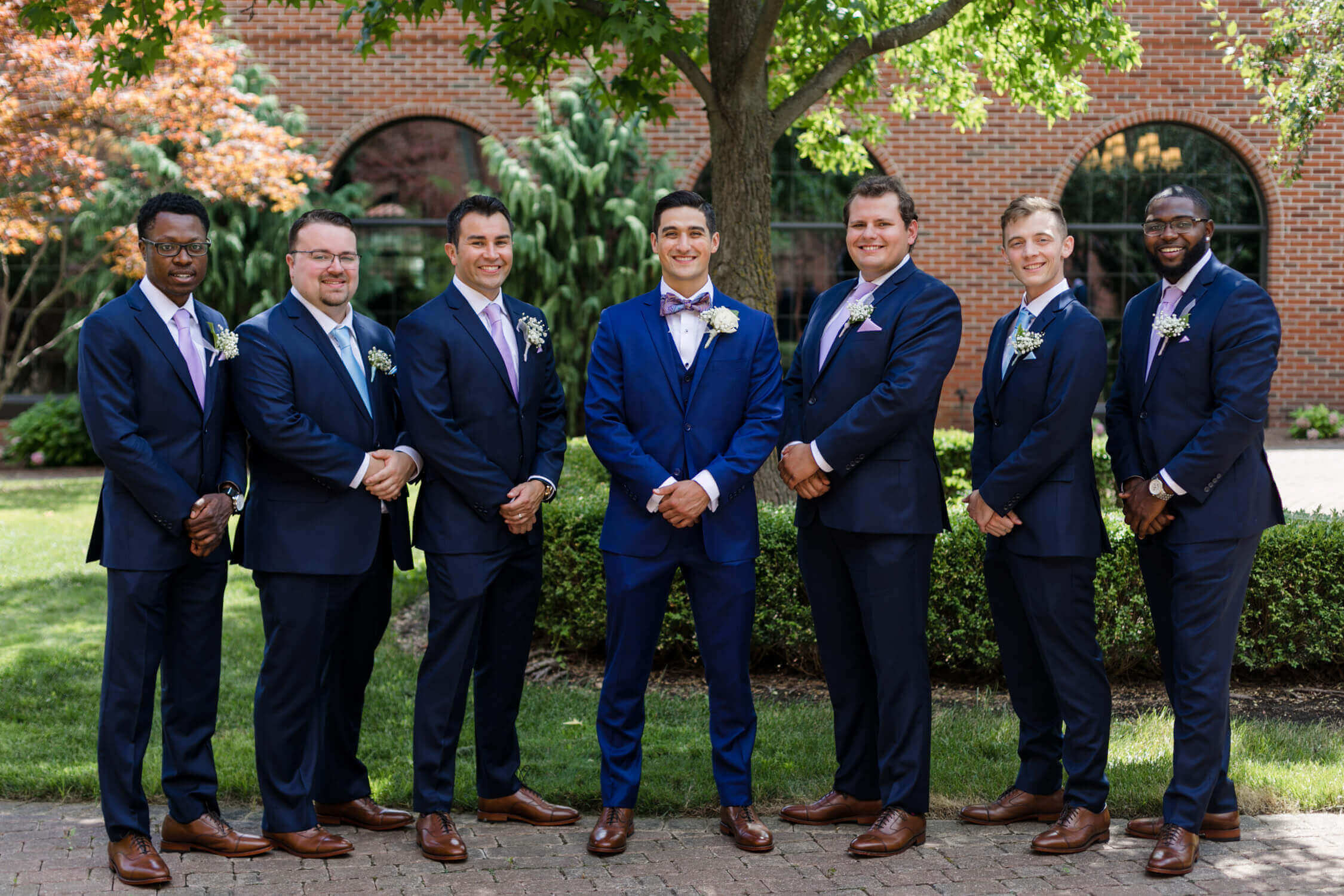 Why Renting is the Worst Option for Your Wedding Day
Subtitle: Your wedding is an occasion for looking your best–don't make the mistake of renting your suit.
When you're walking down the aisle, you've got one million thoughts running through your head–how the music sounds, how happy your family is, and of course, how wonderful your partner looks. The last thing that should be on your mind is how the suit you rented doesn't fit quite right on your shoulders, or how the sleeves are just a tad too long.
When you rent your wedding suit, you sacrifice the option to have a perfectly tailored piece designed exactly for you that will serve as a lifelong memory hanging in your closet. For a garment that will be viewed and photographed by potentially hundreds of people, renting won't cut it.
Why do some people rent their wedding suits?
For some, renting is the go-to option because it appears to be the cheaper option up front. However, this isn't true overall. When you break down the rental cost hour by hour, it can actually be much higher than purchasing your suit. For the cost of renting a suit or tuxedo twice, you could own a properly tailored garment that you can wear for years to come.
Renting a garment is purely about the transaction. There aren't many options available to add personal touches to your rented suit, causing you to give up sentimental value. Rented garments only allow for very basic and minimal alterations, so the odds your suit fits you perfectly are very low.
What happens after the wedding with a rented suit?
In most cases, your rented suit is required to be returned to the suit shop the day after your wedding. Happy honeymoon, right? When you return your suit, the memories attached to wearing that outfit don't hold the same weight as a suit you could own.
When men opt to own, most of them are able to re-wear their wedding suit for other occasions throughout life–why rent and give back that garment, when you could own it and have it ready to go whenever you want it?
How can you find the greatest value in owning your suit?
Outright cost aside, the process of owning your suit is one you'll enjoy leading up to your wedding day. At Manno, we carefully take note of every detail–whether it's in our expert tailoring services, or the experience we bring you while inside our shop. Intangibles like five-star customer service and excited conversations between you and your tailor are indescribable until you've felt them. At the end of that process, you're left with an undeniable high-quality product that you were able to customize down to every last detail. No pulling at your shoulders, no incorrect sleeve length, and no wondering how many men have worn that rented suit before you.
Also, your wedding may be the only excuse you'll ever have to indulge on a bespoke suit or designer label. Why shouldn't every groom (and his groomsmen!) have a treat they can keep for a lifetime?
When you consider all these factors together, the rent vs. own rebate answers itself. It's time to purchase the suit you deserve. Book an appointment with our experts today! We can't wait to help you feel and look your best.